ABOUT
Trio Of Awesuhm is a New York based folk-rock band whose eclectic sound can best be described as "philoso-folk on the rocks".   It is the stage name and band moniker of singer-songwriter Monica Uhm representing the most recent recording collaboration with a small army of diverse and uber-talented musicians she's met through the years.  The debut album is called "Cowboys&Aliens" which has a common hint of Americana across all the tracks but draw heavily from the eclectic musical experience and interests of its members.  
The core members  of the live band include -   
Monica Uhm  - lead vocalist, lyricist and composer.  Monica is a singer-songwriter whose style is self-labeled "philoso-folk".  Her past projects include fronting a  number of rock and alternative bands prior to focusing on solo folk(ish) projects. www.monicauhm.com.
James Kirkpatrick - drummer and percussionist.  James has played, recorded and toured with various independent rock and alternative bands through the years.  He is also currently a member of The Mighty Fergusons. www.facebook.com/TheMightyFergusons
Ken Dircks - bass (upright/electric).  Ken is a ubiquitous musician in the Westchester music scene, tirelessly leading and contributing to a number of events and programs.  His current projects include an eclectic range from jazz (The Ken Dircks Trio) to punk garage rock (Suzy's Garage).  www.facebook.com/kendirckstrio
Greg "Glue" Schettino - lead guitarist.  Greg is a highly trained and versatile multi-instrumentalist, studio engineer and producer.  He is a member of various eclectic funk-based bands and is an in-demand touring musician for other artists. One of his bands, Mr. Clifford Band, recently opened for Michael McDonald at the Tarrytown Music Hall. www.gregschettinomusic.com.
Sammy Wags - keyboardist.  Sammy Wags is a highly trained multi-instrumentalist, studio engineer and producer.  Also a member of Mr. Clifford Band, as well as a number of other musical projects. 
The actual band name Trio Of Awesuhm is the frivolous byproduct of trying to resolve the conundrum of  what to call the artist of the album.   Against all conventional and expert advice, Monica purposely chose not to release the album as a solo artist since the magic of the recordings took a village who contributed in unique and personal ways to the songs.  
Our creative process is simply #justshowup and the belief that we are all #bettertogether.
"cowboys&aliens" 
The first full length studio album "cowboys&aliens" was  released in April 19, 2018.  The album was recorded and co-produced with Joe DiGiorgi of Headline Studios, who has worked with a number of major labels and artists in the past.
We are excited that the album features so many of our musical peers which has enriched the experience and output. 
Also appearing on the album:
Matt Graff - www.mattgraffmusic.com & www.thekoopstudio.com
Jon Cobert - www.joncobert.com
Dan Asher - www.facebook.com/dan.asher.12
Nicole Alifante - http://nicolealifante.com
Anna Jacobson
Eric Katz
Evan Molho 
Jorge Delrio
Kevin Ryan
The Winters Family 
The Bowerman Family 
It's been a truly serendipitous journey and we're excited to share the happy cacophony with you.  
Please sign up on the emailing list for updates and news.
#justshowup #chooseawesuhm #peaceandpancakes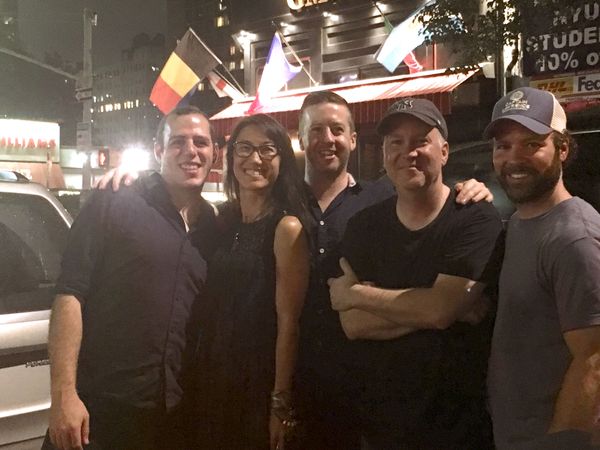 The Buzz on "Cowboys&Aliens" 
"Authentic band and voice among tons of [automatic] music - we like it, and merge well with our eclectic Seventies playlist" - Seventies Berlin
"What a great album to listen to you - each song captivating you. No way I can pick a favorite." - Randy Skaggs, Q108 Kingston
"The production on the album is so wonderful. It is crisp throughout and allows each instrument to shine in its own way. The drums have a strong and durable sound as they provide the backbone to the songs. The violins, guitars, and harmonica accompany when they are needed and shine when it's their time to take a solo. The vocals are warm and inviting throughout. They remind us of Mary Chapin Carpenter in places and also we can hear elements of ABBA mixed in too. Having said all of this, do not be confused, Trio of Awesuhm have a sound all of their own!" - FV Reviews 
Features & Press
https://dlstickler.wordpress.com/2018/09/15/good-underground-radio-show-september-9-2018/
https://fvreviews.com  (post from Oct 2, 2018)
 http://www.nataliezworld.com/2018/10/trio-of-awesuhm-nevertheless.html
Milestones & Stats
#1 on The Maestro's Top Ten Picks - Movers & Shakers featured on Q109 Kingston week of September 17, 2018
#24 in the top thirty recording airplays at WERU-FM week of September 24, 2018
Notables in All Things Next Podcast for October 2018
Added to over 100+ non-commercial radio stations in 20+ countries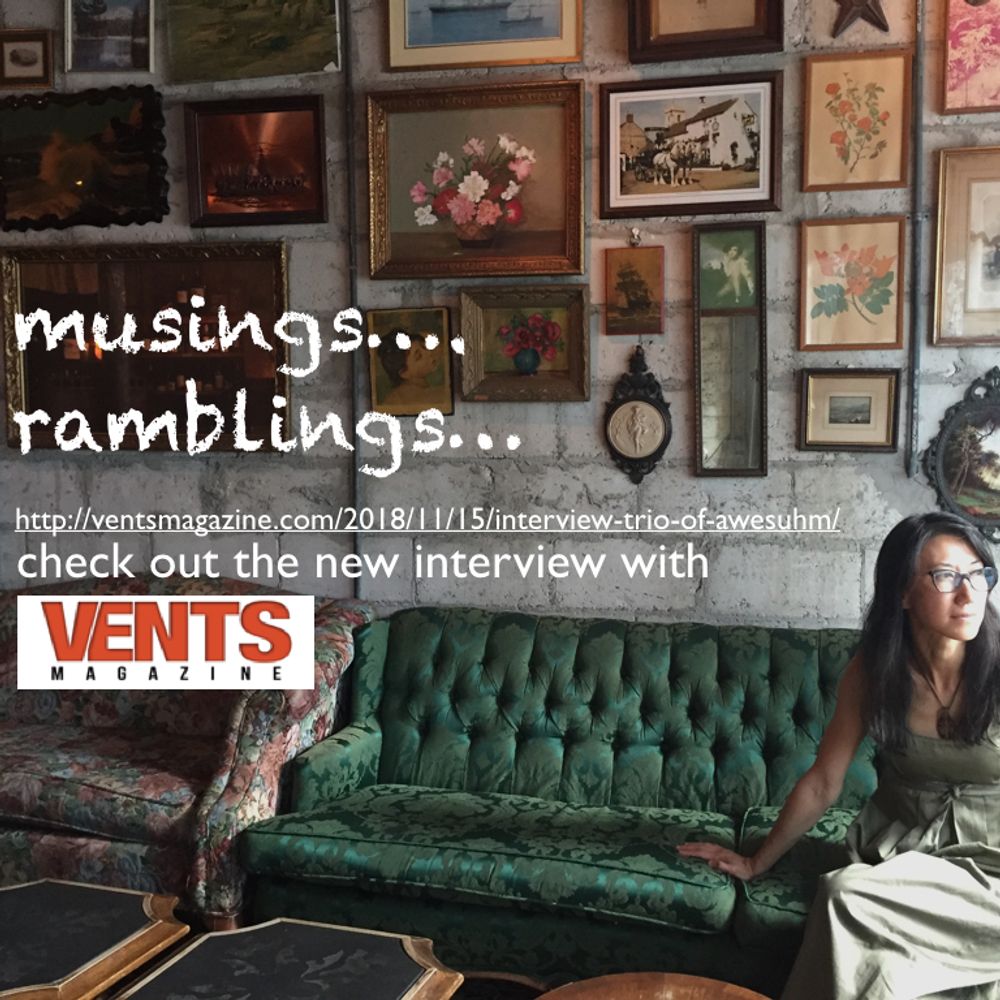 INTERVIEW: Trio of Awesuhm
VENTS Magazine / RJ Frometa / Nov 15, 2018
http://ventsmagazine.com/2018/11/15/interview-trio-of-awesuhm/
Hi guys, welcome to VENTS! How have you been?
Awesuhm!! Thank you VENTS magazine for letting us share some words with you and your followers! But "we" are also a little existentially tormented so I need to come clean about something. If you must know, Trio Of Awesuhm is a fake band, which is a horrible thing to do (although it fits current trends). There were over twenty local musicians credited in the liner notes on this album. We're more a village, an ashram, a commune but without a spiritual center. (Unless you count commitment to making awesuhm music a spiritual guidepost – then we're full-on commune.) I shy away from being known as a solo artist so I conjure up a pop-up band of a few of my music buddies as needed – whoever is around and willing and owes me a favor. The easiest to bribe are James Kirkpatrick (drummers), Ken Dircks (bass player), Greg Schettino (guitar player) and Sammy Wags (keys/piano). Although Ken and Sammy aren't getting along. James hates cilantro so there goes bonding over taco night. And Greg… means well. But we've been Awesuhm! Anything else you hear about us is fake news!
Can you talk to us more about your song "Last Night"?
It's the "glutton for punishment" song. A common storyline of unrequited love in which a stable, loving, nurturing person falls in love with a wanderlust who's raison d'être is to be everywhere and nowhere. The very reason why you fell in love with "the dreamer" is the very reason they will never love you back in the same way or be kept. Not the best ingredient for relationships. (But a super one for a groovy tune).
Did any event in particular inspire you to write this song?
Let me start by belaboring what it means to "inspire". There is never a direct path in my songwriting. The inspirations are latent and are triggered by a momentary gravitational drift of some of the many disjointed tchotchkes gathered from consciously and subconsciously just squirreling away feelings, observations, ideas as I come across them for the long dry winters of my discontent (otherwise known as "writer's block"). The first notes and melody of a song usually happen the same way – I tinker aimlessly on the guitar based on the mood I'm in, a riff follows, then an emotional backdrop starts to form. Kind of like looking at the stars and on a particular night certain points of lights stand out more than another. Then I start to draw lines across these particular points of light and try to coax out its shape. And like a charcoal sketch, I just keep going over it and over it and the lines and shadows become more defined and authoritative. My part in all this is just to pay attention to the muses and shepherd them be what they want to be. I don't write songs, I reveal them. (Other artists have expressed something similar, so if that sounds pretentious, I am in good pretentious company). In unearthing "Last Night", I was in a midnight-on-the-lone-prairie-staring-at-a-full-moon kind of mindset over a few tinkering sessions. And the imagery that started to form was a woman in a homestead staring out into the darkened prairie on her front porch, knowing in her gut he would never "stay", that she should let him go, but knowing she never could or will. (Is there a word limit to this interview?)
Any plans to release a video for the track?
Absolutely. So many ideas, so many talented collaborators. There's a careful balance I want to achieve cinematographically and narratively. Oh yes, the constellations are still unblurring on this one…
The single comes off your new album Cowboys&aliens – what's the story behind the title?
Point 1 – I hate titles. Its superficial and uninformative and self-important.
Point 2 – but a title is needed.
Point 3 – so what to do if I didn't want make too much of a title and still have it be relevant. Whimsical word play! Mash-up two words that appear to be the response of a 3 year old to a question about who they want to invite for tea! I love non-sequitur mashups; for example I've been signing off emails with "peace&pancake" for years. Try to say "peace&pancakes" and stay cranky. Can't do it, right? "Cowboys&Aliens" had that similar irrational exuberant eureka self-congratulatory brilliance. So the prologue to the story behind the title is frivolous wordplay! and then…
Point 4 – the clusterfuck of early 2018; the increasing ongoing upending of any meaningful collective point of reference on modern society as we thought we knew it – moral standards, tradition, common sense, cultural tolerance, civil maturity. And the bizarre tire-screeching brake-locked tailspin of revisiting what most had thought was a reliably evolved perspective on immigration. Wrong!! (insert buzzer sound effect here). It was fascinating to see the root questions revisited on what makes a nation and who exactly is entitled to what – for instance, who/what is truly native and what is extraterrestrial? Who is on home turf and who is the invader? For instance – the US is paranoid about their borders now, but the country of today was formed by Western nations poaching and pillaging the land from the original inhabitants, and now these young squatters are up on their panicked high horses about "their nation" being overtaken by "aliens". Initially the title was "Cowboys vs. Aliens" but was revised from the adversarial "vs" to a more ambiguous and hopeful "&". Why does it have to be one OR the other? (From a design standpoint, "Cowboys&Aliens" worked better graphically than "CowboysVsAliens", so there was also that.).
Point 5 – so the frivolous title became an annoyingly loaded self-important symbolic one. To add to the convolution, the title also pointed to a referendum on the genre vortex. If you think on the premise of the entirety of the album – a Korean-born, Chicago-raised female writes songs that straddle Americana and folk and country musically but layered upon esoteric prose and poetry about valleys and streams as well as cracking silhouettes from her hipster coffee shop urban perch. WTF is this? But who lays claim to delve into what musical genres? So the terrestrial entitlement question also applies to the resulting sound on the music as well. That's why we call our sound a "kitchen-sink twist on Americana". Nothing did not not make sense. Make sense? Unless you're a genre purist. Then you're probably eternally offended and pissed off right now. I'm sorry.
Point 6 – Where am I on the word count on this interview? Do we have time for more?
How was the recording and writing process?
Awesuhmly random. We say this album is the result of a string of happy accidents. I met a local producer (Joe DiGiorgi) in November 2017, told him I had a few songs, and that I didn't want to die without leaving something behind for my kids to remember me by, and an album had to be released by mid April 2018. So "The Plan" was to make a musical scrapbook for my kids in 6 months for when I may die in 40 or so years. "The Process" was – whatever 10 songs we were able to finish made it on the album; whatever studio time he had free, I took; whichever musicians were around on a given day, we worked with; whatever made sense to everyone to play on that day we played. With such generous, talented musicians, the process was to just show up, trust each other in the moment and let's have some fun. In other words, it was dumb luck.
Known for playing with different genres – how do you go on balancing together?
The balance found itself. The bones of my songwriting are overwhelmingly folk / pop – but the colors and texture of the arrangements are interesting when you have musicians that are neck deep in training across a wide range of genres – classical, jazz, progressive rock, blues, punk rock, classic rock, cabaret. I'm not formally trained or adept in any one genre, I'm the dabbler that begs, borrows and steals all the things that I'm drawn to and experiments with how they could co-exist. And turns out many can co-exist quite joyfully with the right team. I self-dubbed the category of my songwriting as "philoso-folk" to alleviate the mental contortions of something always being off about my songs from what you would expect in whatever genre is being used as the reference point. Once you say you're a philosopher, folks go "oh", nod their head and are now liberated to just enjoy the song without overthinking.
Did the film with the same name influence this record in any way?
In a way. I never saw the movie so the influence wasn't from the actual movie. It was the fact that the movie was even made. The title of the film alone suggested such a preposterous premise and I remember thinking "oh, no they didn't". But someone made it, with major studio backing and an A-list cast. Talk about Go Big or Go Home!! (I'd like to meet that person who pitched this idea and had studio heads drooling in their hands…) So a part of me was like "damn, that's ballsy". Tying that into the influence on a personal manifesto, in many ways it was outrageous and preposterous for me do the album at all (an interview for another time) and in the unscripted ad hoc manner in its making. But, Yes, Yes World, you bet your your goddamn rulebook we made this album! (But listen to the album even though I didn't see the movie (yet)!)
Where else did you find the inspiration for the songs and lyrics?
I'll be cheesy and say its LIFE. The wacky wonderful red-blooded, blue-hue-skied, green-grassed, baby-cooing, crazy-aunt-humoring thing called life and living and being here and looking at other people who are here and living and floating around amongst the magnificent mountains and awful shades of brown house paint and 8 year olds that are pretty damn funny. All of it. Songs were written anywhere from 15 years to 6 months before we went into the studio so it's a nice swath. We also say this odd-lot collection comes together like a "soundtrack for life's literal and figurative road trips".
Any plans to hit the road?
We're pretty local for the immediate future. As for anything that requires a U-haul and hotel rooms, we're still kinda rubbing the daydream from our eyes about the quality of the album exceeding the near non-existent bar, and the amazing response from all over the world. We have had about 100 radio stations in about 20 countries that have added this to their playlist. So it would be really heartwarming to meet with these audiences in person soon; and especially the music directors, bloggers and DJs. The champions of indie music. To thank them for giving the album a chance, a home and letting us know it didn't suck.
What else is happening next in Trio of Awesuhm's world?
Vinyl edition. Music videos. Better press photos. Band counseling. Continue to profusely thank our supporters and enablers that make it possible for us to do what we do and be who we be. Save the world. Add a spoonful of sugar to help the world's medicine go down, one lullaby at a time. (Goodnight, Moon Zappa!).